We invite you to share this news with a colleague and sign up here.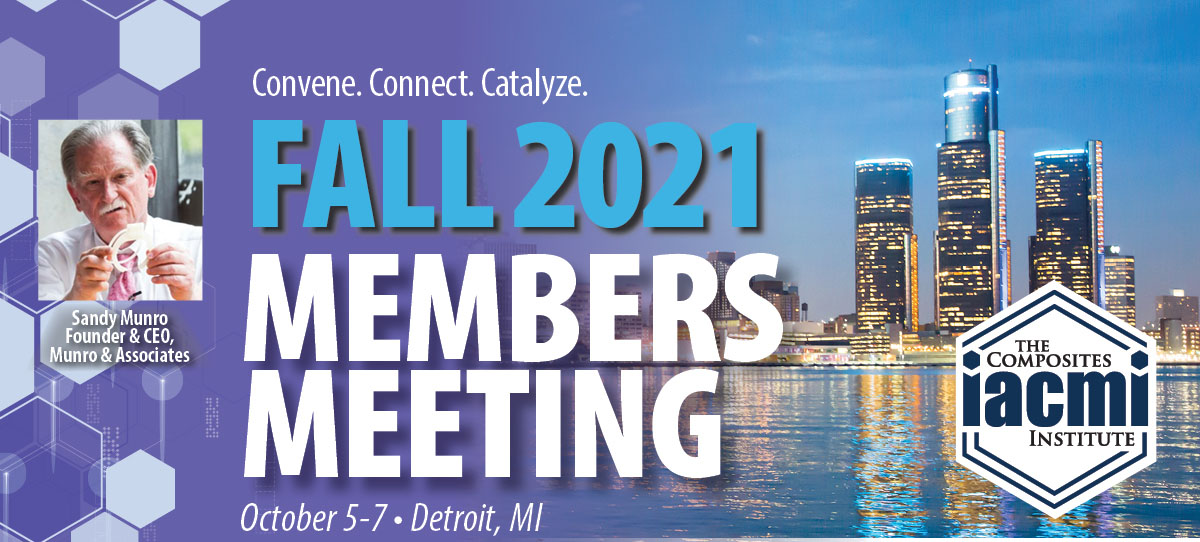 Visionary, master innovator Sandy Munro to present on electric vehicle transition implications at IACMI Fall 2021 Members Meeting
We are less than a month away from our Fall 2021 Members Meeting! Be sure to register as we welcome compelling speaker Sandy Munro to the stage.
Munro will discuss the implications for the transition from internal combustion engines (ICE) to electric vehicles, citing it as the largest disruption of the automotive industry since 1908 when the invention of the starter motor for ICE's killed off electric vehicles at the time.
Munro serves as the Founder and CEO of Munro & Associates, and he has over 40 years' of hands-on experience implementing change through innovation and hard work. Crowned the "Teardown Titan" by the Society of Automotive Engineers, Sandy is known as the straight-shooting prognosticator, offering blunt but honest critiques of product designs. Working on everything from Barbie® to the International Space Station, Sandy's patented Lean Design® methodology has made him the go-to solution provider for cost reduction and quality improvement.
Join us October 5-7 in Detroit, Michigan to hear more high-level speakers, panel discussions, and so much more!

Sponsorship opportunities available for
Fall 2021 Members Meeting
We are excited to welcome our IACMI members and core innovation partners to our in-person event in Detroit. A shout out to our premium and gold sponsors listed below who are helping make our premier event a success. Additional sponsorship opportunities are still available and offer a unique platform to promote your company and your latest achievements, products, and services to our highly targeted audience.
Click here to learn more and become a sponsor, or contact Kim Hoodin at khoodin@iacmi.org for more information.
Keeping You Safe
Our team is working to make sure your participation in the Members Meeting is safe so you can focus on convening, connecting and getting down to business.
Learn more about the measures we are taking to keep you safe.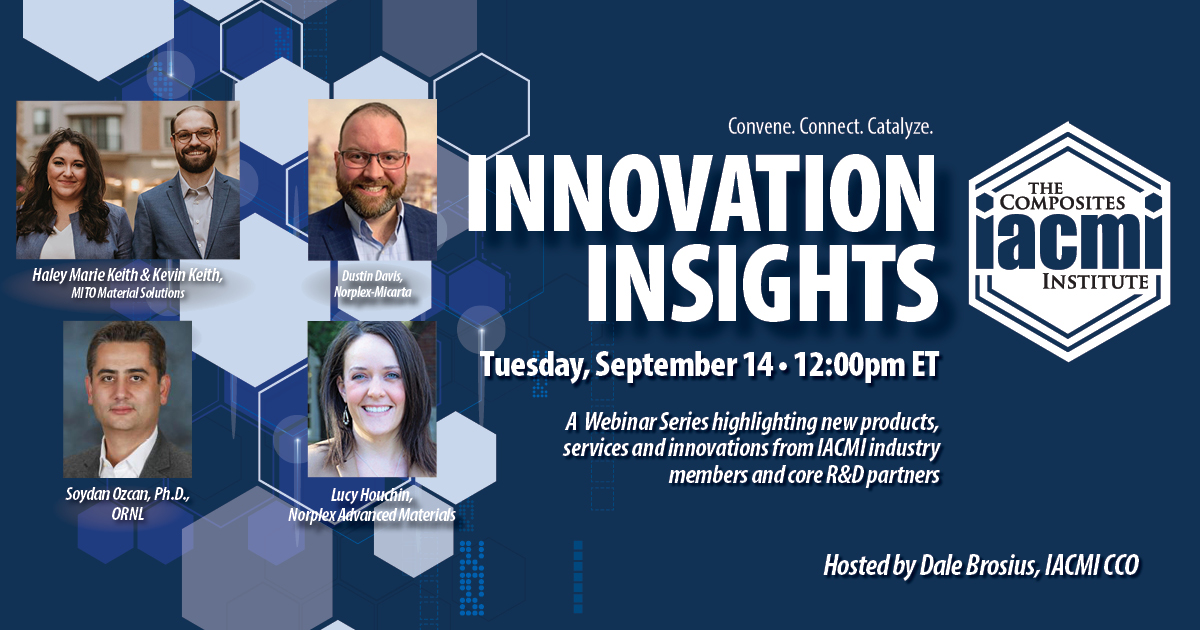 HAPPENING NEXT WEEK: Join us during your lunch break on Tuesday, Sept. 14 for IACMI's Innovation Insights webinar!
Our monthly webinar series "Innovation Insights" continues, as IACMI Chief Commercialization Officer Dale Brosius will moderate discussions on recent technology advancements that industry may not be fully aware of.
On Tuesday, September 14 at 12PM ET, join us for a one-hour series of presentations from IACMI members and partners, where they will provide background on new technology, products, and the key advantages provided, as well as application examples.
In our next episode you will hear from: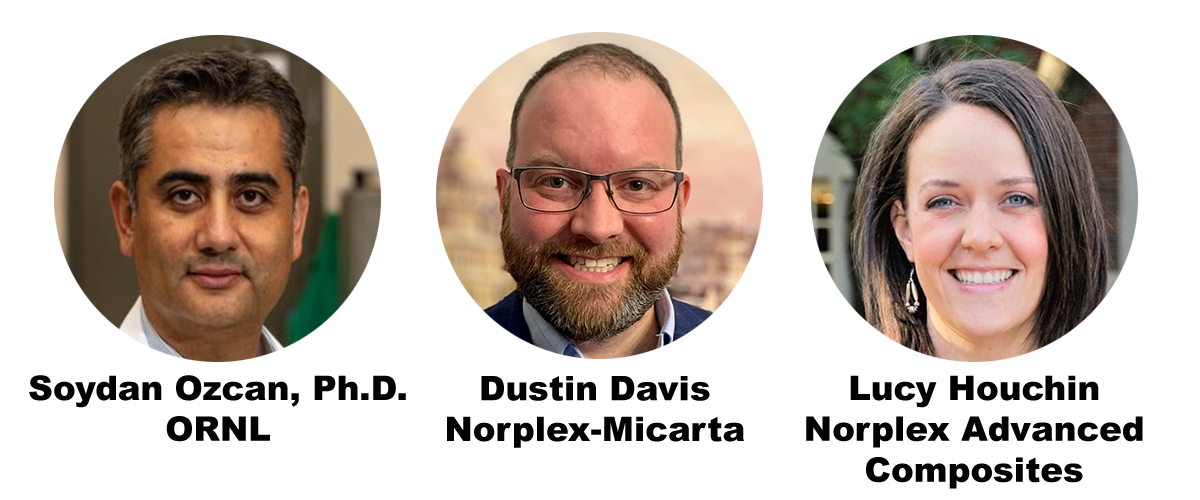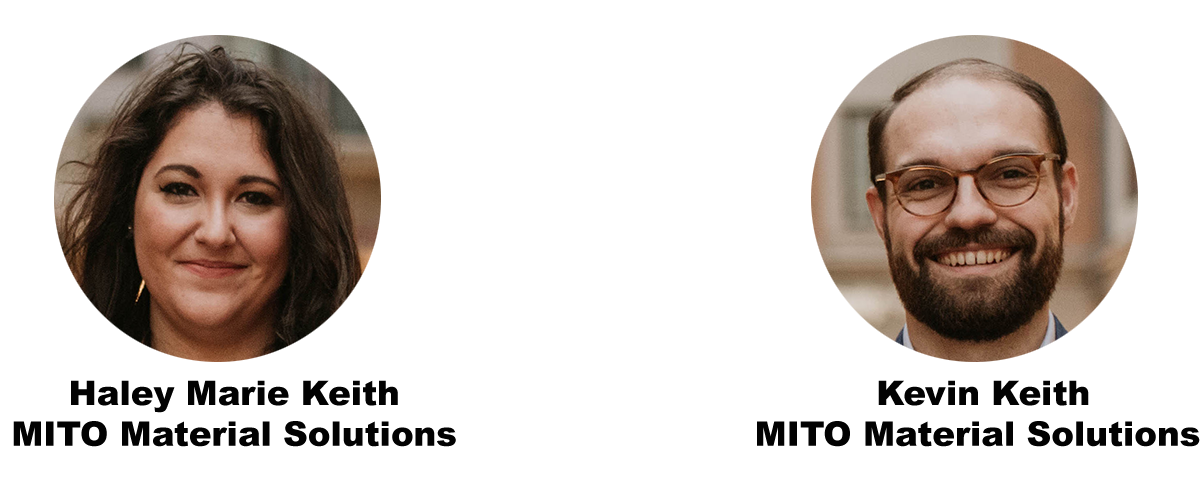 Soydan Ozcan, Ph.D., Senior R&D Scientist, ORNL
Recent Advances in Composites Recycling and Supporting Capabilities at ORNL

– Circular economy and recycling are increasing in importance for all plastics, including polymer composites. Built for durability, composites are inherently difficult to recycle, however new solutions are being demonstrated to make end-of-life recycling economically practical. This presentation will focus on some recent work conducted in this area, and additions to the equipment portfolio at Oak Ridge National Laboratory that can be accessed by industry.
Dustin Davis, Director of Sales and Business Development, Norplex-Micarta & Lucy Houchin, General Manager, Norplex Advanced Composites
Glass Epoxy Materials for High Fatigue Load Applications –

Norplex Advanced Composites is a new business that brings decades of Norplex-Micarta's composite material production excellence to the advanced composites market. With a focus on cost effective solutions for the middle market, a key initial product is the NorPLY brand of unidirectional glass epoxy sheets that excel in fatigue and dynamic loading applications. This presentation will detail the history of the product line, introduce applications, and highlight product line extensions that are planned such as prepregs that will allow customers to build custom geometries.
Kevin Keith & Haley Marie Keith, Co-founders, MITO Material Solutions
Highly Engineered Additives for Every Day Products – When graphene and its derivatives were introduced into design parameters roughly 10 years ago, it was hailed as a "wonder material" due to the material properties it showed. It requires a totally homogenous dispersion though, leaving it largely available to select high-tier markets after years of R&D. MITO Materials has developed a hybrid additive based on graphene and has proven that it does not need a homogenous dispersion to achieve upwards of a 135% increase in mechanical properties at a much lower concentration while not requiring special mixing parameters. This allows graphene based products to penetrate markets once thought untouchable.
Join us during your lunch break for these engaging presentations. There will be time for Q&A opportunities for the audience.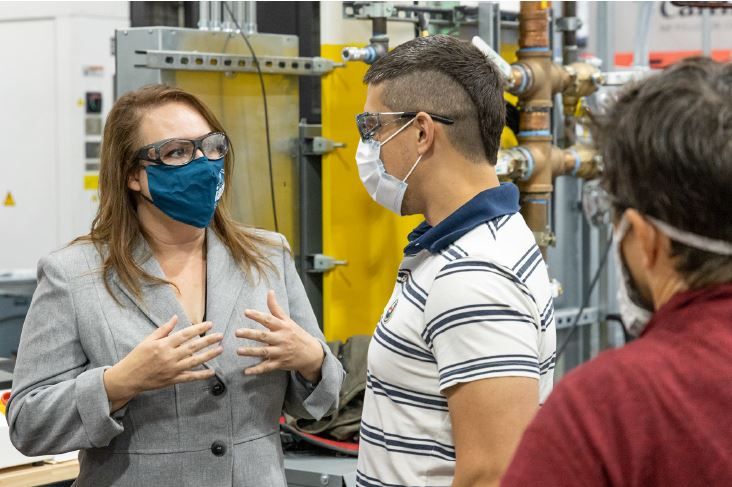 From left, IACMI Workforce Director Joannie Harmon and Deputy Assistant Secretary of Defense for Industrial Policy Jesse Salazar
Deputy Assistant Secretary of Defense for Industrial Policy Jesse Salazar engages with ACE CNC machining training participants
IACMI and Oak Ridge National Laboratory welcomed Deputy Assistant Secretary of Defense (DASD) for Industrial Policy Jesse Salazar to Knoxville in August to engage with the newest class of America's Cutting Edge (ACE) CNC machining training participants – many of whom are veterans or active service members.
Mr. Salazar observed as veterans and ACE instructors machined parts for air engines on state-of-the-art CNC machines at ORNL's Manufacturing Demonstration Facility.
The DASD and the group of veterans from University of Tennessee, Knoxville's SERVE program discussed the important role a skilled manufacturing workforce plays in restoring the prominence of the U.S. machine tool industry.
Through ACE, DOD aims to revitalize the U.S. machine tool sector through transformative thinking, technology, and training. Among those joining Mr. Salazar were Industrial Base Analysis and Sustainment Program Director Adele Ratcliff, IACMI Workforce Director Joannie Harmon and University of Tennessee, Knoxville professor and ORNL Joint Faculty Dr. Tony Schmitz.

Learn more about ACE at www.iacmi.org/ace.
Vertical axis wind turbine research
could revolutionize remote power generation
Recyclable thermoplastic composites may soon enable decentralized wind-based power generation, thanks to the work of an IACMI-supported innovation team led by Steelhead Composites.
Vertical-axis wind turbines (VAWTs) seem well-suited to meet decentralized or remote energy needs, like powering marine vessels, isolated cell phone towers, or disaster relief work. But VAWT technology requires continued development if it is to become commercially viable for such widespread deployment. To that end, companies like Steelhead Composites are undertaking design, material and manufacturing technological development.
By investigating and developing thermoplastic composites technology for VAWT application, a project completed by a coalition of Steelhead, Colorado State University and the National Renewable Energy Laboratory, and material supplier Arkema, advances the commercial potential of VAWTs for decentralized energy production. The project is supported by IACMI and funded by the U.S. Department of Energy (DOE).
Learn more about IACMI's VAWT project.
Since being launched, IACMI has managed 50+ DOE-funded collaborative and industry-led technical projects, with more than 90 IACMI members participating on those projects, and with more than $150 million in research and development value.

DOE seeks input for new Clean Energy Manufacturing Institute
to catalyze industrial decarbonization
The U.S. Department of Energy (DOE) announced a request for information (RFI) to inform the creation of a new Clean Energy Manufacturing Institute focused on industrial decarbonization. Released by DOE's Office of Energy Efficiency and Renewable Energy, the RFI seeks input from stakeholders in identifying key opportunities to decarbonize energy-intensive sectors across America's economy through public-private collaboration.
The RFI requests input on two topic areas of interest, electrification of industrial processes and decarbonizing the metals industry. Stakeholder input will help provide focus for the potential new Institute to contribute technological advances for widespread industrial decarbonization.
Responses to this RFI are due on September 23, 2021 by 5:00 PM ET.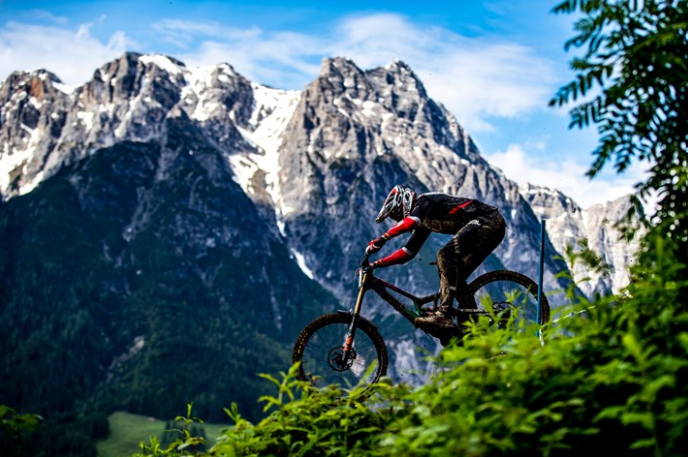 Photo credit: NAWA
IACMI innovation partner UDRI collaborates with NAWA to develop new CNT-enhanced carbon fiber mountain bike race wheels
Advanced composite materials have revolutionized the sporting goods industry, and bicycles are an excellent case in point. For competitive racers, lightweight yet strong and durable FRP composites-based bike frames give them a noticeable edge over their competitors.
The University of Dayton Research Institute (UDRI), a core IACMI innovation partner, recently collaborated with NAWA to help produce ultra-strong composite materials for new carbon fiber Santa Cruz Syndicate race wheels.
Read more from CompositesWorld as the outlet looks at how one of world's most successful downhill racing teams is producing high-strength, damage-resistant bike wheels using innovative nanotechnology-enhanced carbon fiber materials.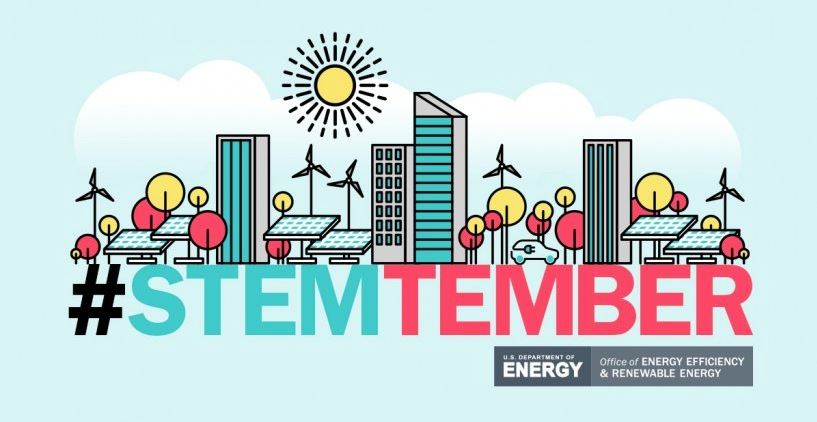 IACMI celebrates STEMtember!
IACMI is joining the U.S. Department of Energy's (DOE) Office of Energy Efficiency and Renewable Energy (EERE) in celebrating #STEMtember!
Back to school season is the perfect time to showcase the importance of STEM education in building a better future for all.
IACMI is proud to have introduced nearly 10,000 K-12 STEM students to the world of composite materials and manufacturing!

Early-bird rates for CAMX 2021 end September 14!
CAMX brings together all aspects of the world's composites and advanced materials communities together for one all-encompassing event. CAMX is where industry meets to get business done and industry discovers the latest products, solutions, and advanced technology.

Register today for SAMPE North America's
Materials Innovation & Advanced Technology Leadership Forum!
The Materials Innovation & Advanced Technology Leadership Forum will convene technology leaders, executives, engineers, scientists and other professionals driven by the commercialization of advanced materials. Novel manufacturing and process innovations are spurring emerging applications. Gain a competitive advantage and network with a global community of experts.
IACMI - The Composites Institute
2360 Cherahala Blvd.
Knoxville, TN 37932
Email preferences | Unsubscribe
When you unsubscribe, you are removed from all email communications related to voting opportunities, membership renewals and invoices, projects and working groups, newsletters, and events.