Composites leadership community converges
on Detroit for IACMI Fall 2021 Members Meeting
Thank you to all the IACMI members who attended and participated in the Fall 2021 Members Meeting in Detroit last week. We appreciate your time and engagement, as well as the collaborative spirit to convene and connect in-person as we aim to accelerate advanced composites design, manufacturing, technical innovation, and workforce solutions. A special thank you to our event partner Michigan Economic Development Corporation (MEDC), as well as sponsors American Chemistry Council Plastics Division, Arkema, Dassault Systèmes, TPI Composites, Berndorf, Vartega and Schmidt & Heinzmann.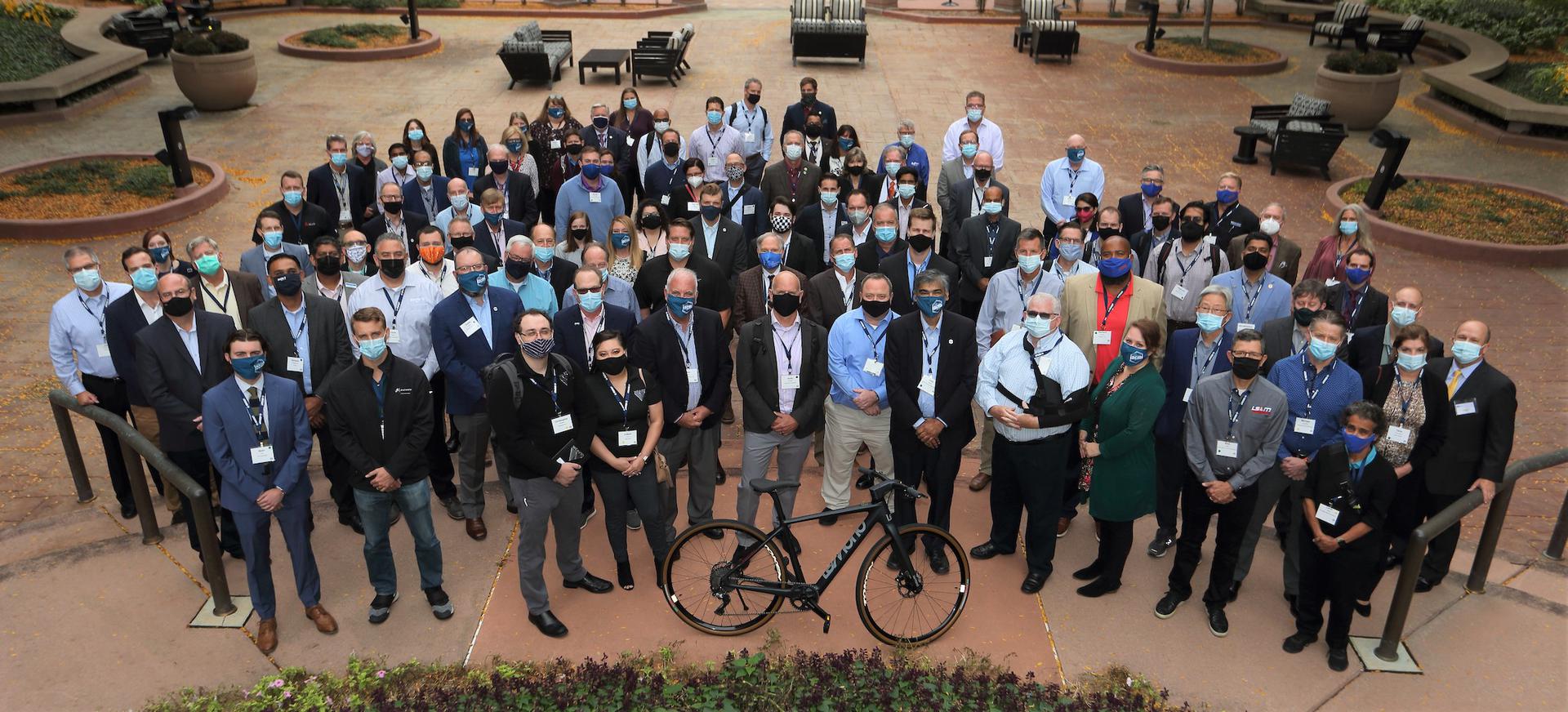 Held at The Henry Hotel in Dearborn, the event featured an impressive speaker lineup of industry leaders, including:
U.S. Rep. Haley Stevens (Michigan)

Innovator, Visionary and Change Agent Sandy Munro

Michigan State University Distinguished Professor of Engineering Dr. Satish Upda, who also sits on the Michigan Council on Future Mobility and Electrification

MEDC Chief Business Development Officer and EVP Josh Hundt

Utah Advanced Materials Manufacturing Initiative CTO Dr. Brent Strong
U.S. Rep. Haley Stevens applauded IACMI members for propelling America's competitiveness.
Propelling America's Competitiveness
"We have all of this amazing innovation happening across the U.S. and we cannot stop or rest a minute. You (IACMI) are propelling the competitiveness agenda forward in this country," U.S. Rep. Haley Stevens said in spirited remarks. A strong supporter of IACMI, Stevens represents Michigan's 11th congressional district, covering the northwest Detroit metropolitan area and home to numerous automotive Tier 1 and supplier facilities.
Stevens tipped her hat to IACMI members and composites manufacturers nationwide for also stepping up to the challenges brought on by the COVID chaos of 2020. "It wasn't all roses and rainbows, but you didn't stop your research," she said. "You kept going forward, propelling America's competitiveness."
Featured Speaker Sandy Munro talks with IACMI Consortium Council Member Peter Hedger Jr.
Lead the Way
Vehicle manufacturing expert Sandy Munro shared a similar message with members. "You have to lead the way; it is organizations like IACMI that have to lead the way in implementing change and innovative development strategies," emphasized Munro, who said that he is optimistic about composite production hitting its sweet spot as automakers turn to lower production runs and electric vehicles. "Want to know the future of autos and internal combustion engines, ask your kids," he said. "They want clean EVs. You (composites) have to lead the way."
Michigan State University Mobility
In his presentation to IACMI members, Dr. Satish Udpa acknowledged that MSU Mobility, with its mission to revolutionize the way people and goods move throughout the world, is far more than an engineering issue. That's why the 65 MSU faculty members working with the mobility initiative are from not only the engineering college but also from the colleges of communication, arts and sciences, law, business, and social sciences.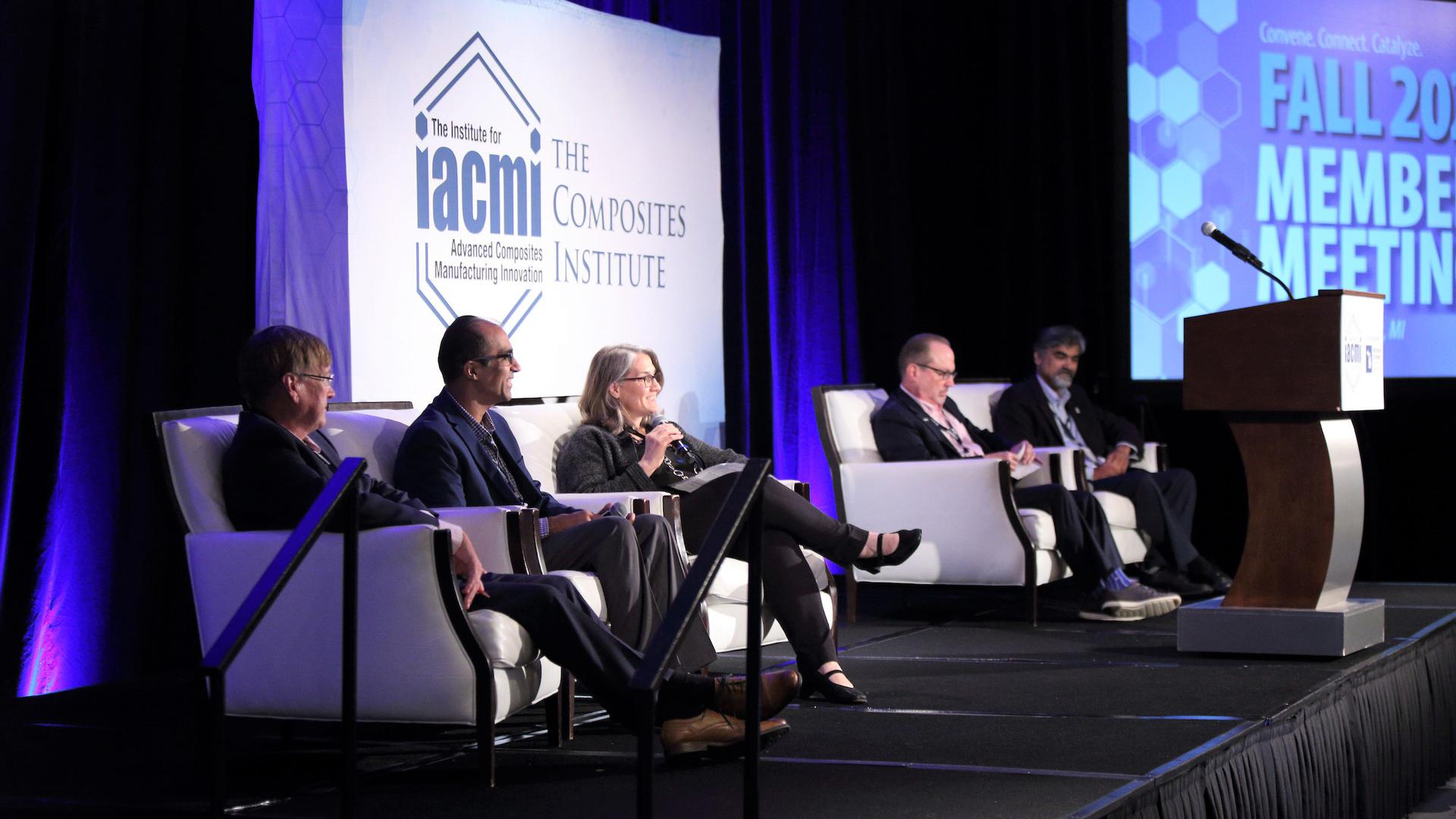 Composites Campfire
The global transportation sector's growing demand for lightweight hydrogen-fuel storage tanks and multi-functional battery enclosures are two of the composites industry's most promising opportunities on the backside of COVID, experts from ACMA, SAMPE, CompositesWorld and IACMI said in a Composites Campfire session.
Led by ACMA CEO Cindy Squires, the panel featured ACMA's Dan Coughlin, SAMPE's Raj Manchanda, CompositesWorld's Scott Stephenson and IACMI's Uday Vaidya.
The biggest challenge, which isn't necessarily related to the pandemic, is the workforce shortage, panelists agreed. "Manufacturers simply can't find enough workers," Squires said. "We need to be continuously turning out students with the skills needed."
And Much More…
IACMI Working Groups held workshops during the event. Other programs included IACMI live Innovation Insights sessions featuring new member highlights, products and services, project updates, and IACMI interns sharing "Where Are They Now" stories.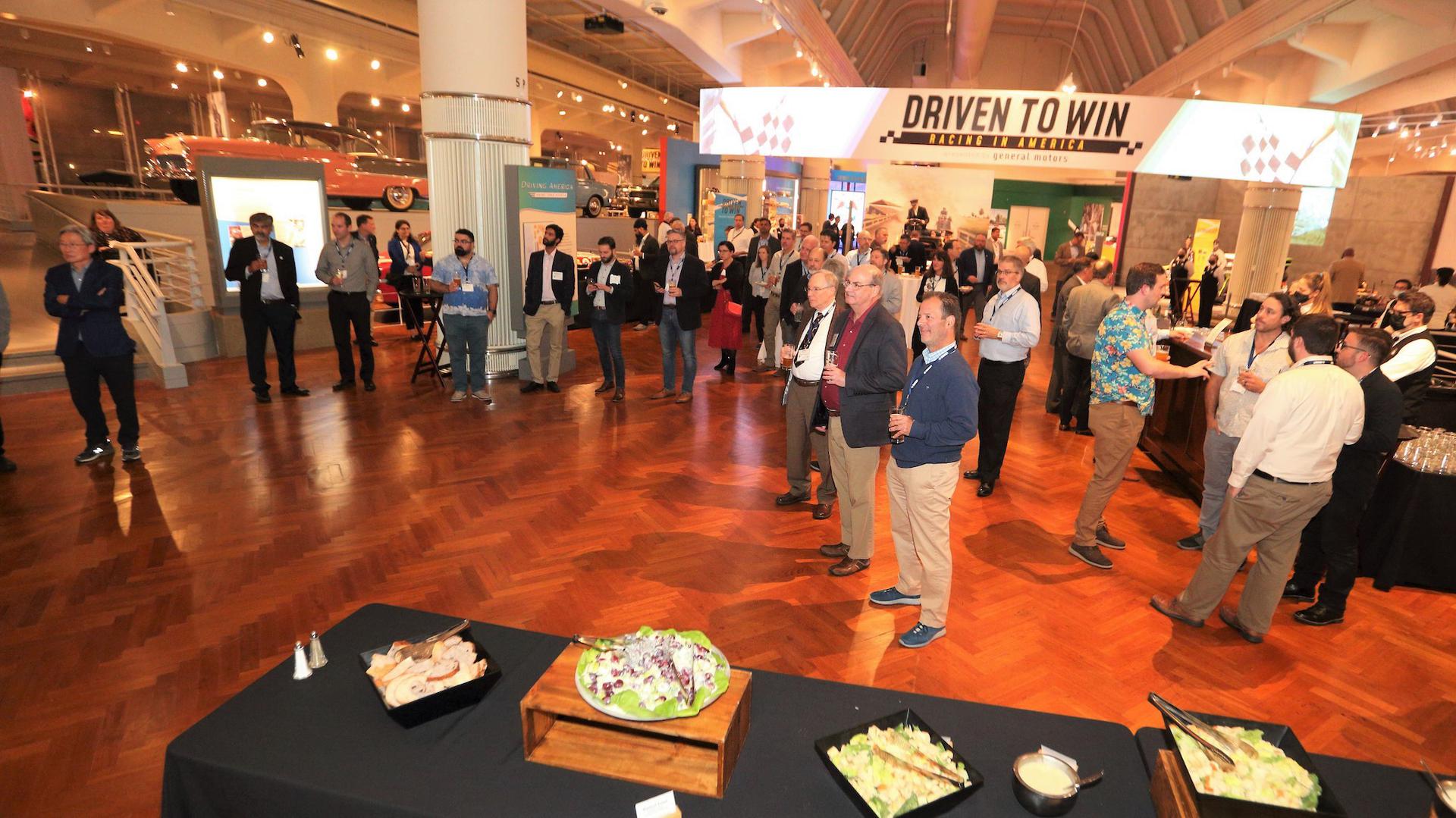 A networking reception was held at the Henry Ford Museum of American Innovation.
Members enjoyed a memorable networking reception at the Henry Ford Museum of American Innovation in Dearborn, featuring the museum's newest exhibit "Driven to Win: Racing in America," an unprecedented exhibition of American auto racing.
The Detroit meeting included tours at the IACMI Scale-up Research Facility (SuRF) in the heart of automotive R&D. Located in the Corktown neighborhood of Detroit, SuRF is managed by Michigan State University. SuRF, established with co-funding by the State of Michigan through MEDC and DOE, is under the leadership of Ray Boeman, director of IACMI SuRF and vehicle technology at MSU.
"After 622 days without an in-person members meeting, we were able to deliver a content rich and invigorating program and provide much needed industry networking," Dale Brosius, IACMI CCO and Consortium Council Executive Director, said. "It reinforced our mission to convene, connect and catalyze the entire composites industry to make the future of the world cleaner and more sustainable."
We look forward to seeing you again for our next Members Meeting scheduled for Summer 2022 and thank you again for being a valued IACMI member.
Thanks again to our partner MEDC and our Event Sponsors!


Follow us on social media!
IACMI - The Composites Institute
2360 Cherahala Blvd.
Knoxville, TN 37932
Email preferences | Unsubscribe
When you unsubscribe, you are removed from all email communications related to voting opportunities, membership renewals and invoices, projects and working groups, newsletters, and events.