InTouch: Association news
August 2021
Dear Colleagues,
Unlike last year, we've had the opportunity to enjoy summer and gatherings with family and friends, and I hope you have all been able to take advantage of the weather and get out and safely enjoy some downtime and reconnection opportunities. Personally, given all the challenges of the past 16 months, I am feeling recharged and energized after some vacation time, which is good considering the fall schedule ahead of us.
Council is preparing for a significant undertaking to respond to the changes brought about by Bill 46 legislation on regulatory Colleges. This will include reviewing and revising our mission, vision, and strategic priorities as we transition to be a single-mandate regulator. In addition, we will review our bylaws, governance, policies, and Standards of Practice to meet the new legislative requirements, so the College of Chiropractors of Alberta will continue the ACAC legacy of being a leading health profession regulatory body.
As part of the Standards of Practice review there will be opportunities for members to provide input and feedback on the process, as outlined in the August Registrar's Report.
While the province has announced a relaxation of public COVID-19 restrictions, regulated health professions have a legislated responsibility to ensure patient safety. With that lens, Council has reviewed the pandemic practice directive, and in light of the escalation in COVID-19 cases, voted to maintain the practice direction currently in place with some small updates. The changes made will be shared shortly in a separate communication and are relevant to how to respond to a symptomatic patient in your clinic, having toys in waiting rooms and a recommendation on policy for work exclusion for employees who have contracted the virus.
These decisions were made with a focus on the protection of the public, patients, staff, and chiropractors, and included consideration of public health advice and with what similar health professions are advising. Chiropractors have showed their commitment to providing patients a safe place to receive treatment and care over and over again over the past year and a half, and I believe our reputation has been enhanced because of that work. I want to thank you all again for your dedication to safety and patient care.
Lastly, we are just a little over a month away from our last Annual General Meeting as a joint organization on September 19, and I encourage you to register to attend this virtual meeting.
Yours in health,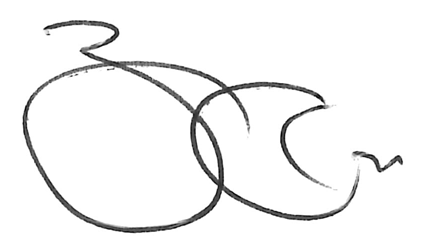 Dr. Brad Kane, C. Dir.
ACAC Chair
A message from your IBC Co-Chairs
Happy August, colleagues.
As many families across the province begin to turn their thoughts toward back to school in September, your Inaugural Board Committee is firmly focused on a date closer to Christmas, when the formal separation of the ACAC will result in a new college and a new association for Alberta's chiropractors.
Much work has been accomplished and more will be done to be ready to provide Alberta chiropractors with a seamless transition.
All work undertaken is guided with the central intention to support our members so that they can support their patients with excellent care, as well as advancing the profession's image, integration, and elevation within the health-care environment.
We are developing a foundational values framework, strategic direction, key activity areas, governance, policy, procedural direction, and initial budget planning. Operationally, we are getting all of the pieces in place that allow the association to run smoothly, including IT systems, website development, branding and identity, and, of course, having capable staff ready to serve you, the membership.
We will keep you updated on our progress each month through InTouch, as well as posting information on the ACAC members' webpage for the association.
Sincerely,

Dr. Natalie Carrington
Co-chair, Inaugural Board Committee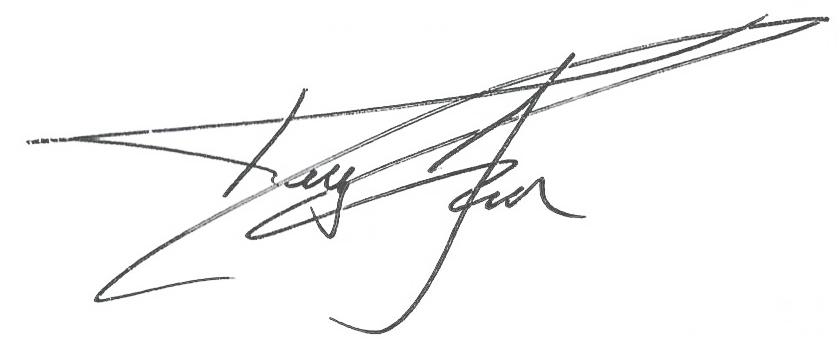 Dr. Kelly Fleck
Co-chair, Inaugural Board Committee
Key findings from July's ThoughtExchange
July's ThoughtExchange, which ran from July 19 to August 2, asked, "Do you have questions about recent announcements or the future, separate organizations that could be answered in newsletters or member meetings?" Members were also asked to indicate preferred ways to get the information you need to understand these changes, and how they will affect you and your practice?

Member engagement numbers were low, with only 11 individuals participating. As a result, only a single thought was rated enough to be considered and it brought up the question of how to report to the correct authorities if patients share vaccine reactions with their health-care providers. In these cases, the ACAC advises chiropractors to encourage the patient to call 811, the provider who administered the vaccine, or contact their physician to report their symptoms.
We would like to encourage all members to take the time to participate in our monthly ThoughtExchanges. As opportunities to meet face-to-face in typical members' forums are infrequent, this is a valuable way to keep the ACAC informed about what matters to you.
Straightening up and starting the school year off right
With school coming back into session, now is a great time to remind patients who are students, or have school-aged children to "pack it light, wear it right"! The ACAC has material available for members to use in educating patients about the importance of postural health and protecting their musculoskeletal health. Included among this material is a new, inclusive Straighten Up Alberta program!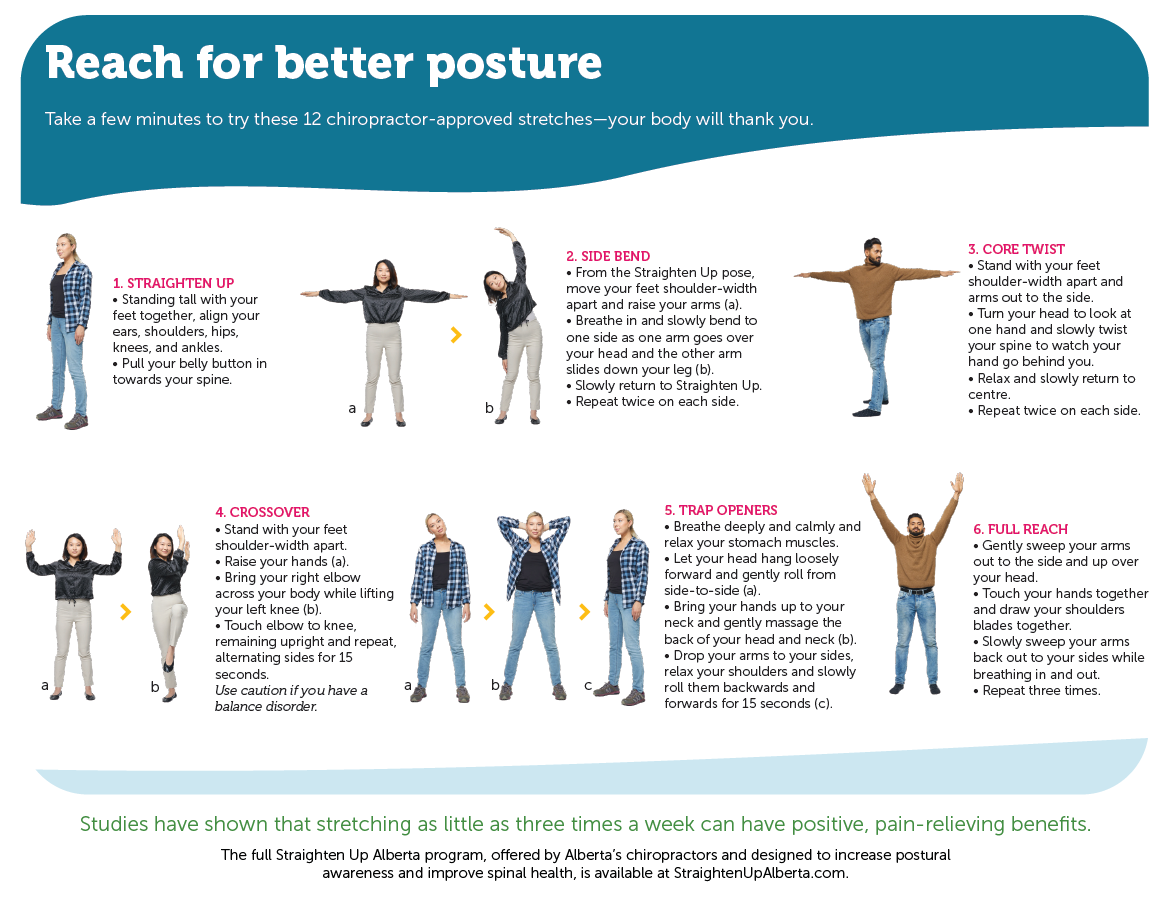 The program was refreshed with an eye to inclusivity and a goal of accessibility. Along with a revised general program, three shorter programs were developed, targeted at parents, students and office workers, and labourers. Each program highlights stretches that are especially helpful for each set of individuals, as well as guidance on sitting in a posture-approved way and lifting heavy loads correctly.
In addition to making this information available for chiropractors and the public, the ACAC organized more than 75 packages of educational and wellness material to be distributed to classrooms across Edmonton. Each package contains:
Strengthen the case for regaining publicly-funded chiropractor-ordered diagnostic imaging
Since the loss of public funding for chiropractor-ordered diagnostic imaging, the ACAC has continued to lobby the government and engage decisionmakers in this topic. You can help us strengthen our work by sharing your story and experiences with us.
The clearest and strongest argument for reversing this loss is in the ongoing and real-life impacts you and your patients experience. We encourage you to take the time to share your experiences and stories in this survey. Without compromising patient privacy, please identify the key issues that you have encountered, with as much detail as possible. This information will help us as we continue to demonstrate why chiropractors should have access to publicly-funded diagnostic imaging.
Have questions on Bill 46, practice guidelines, and more? Join us for our member meeting on September 14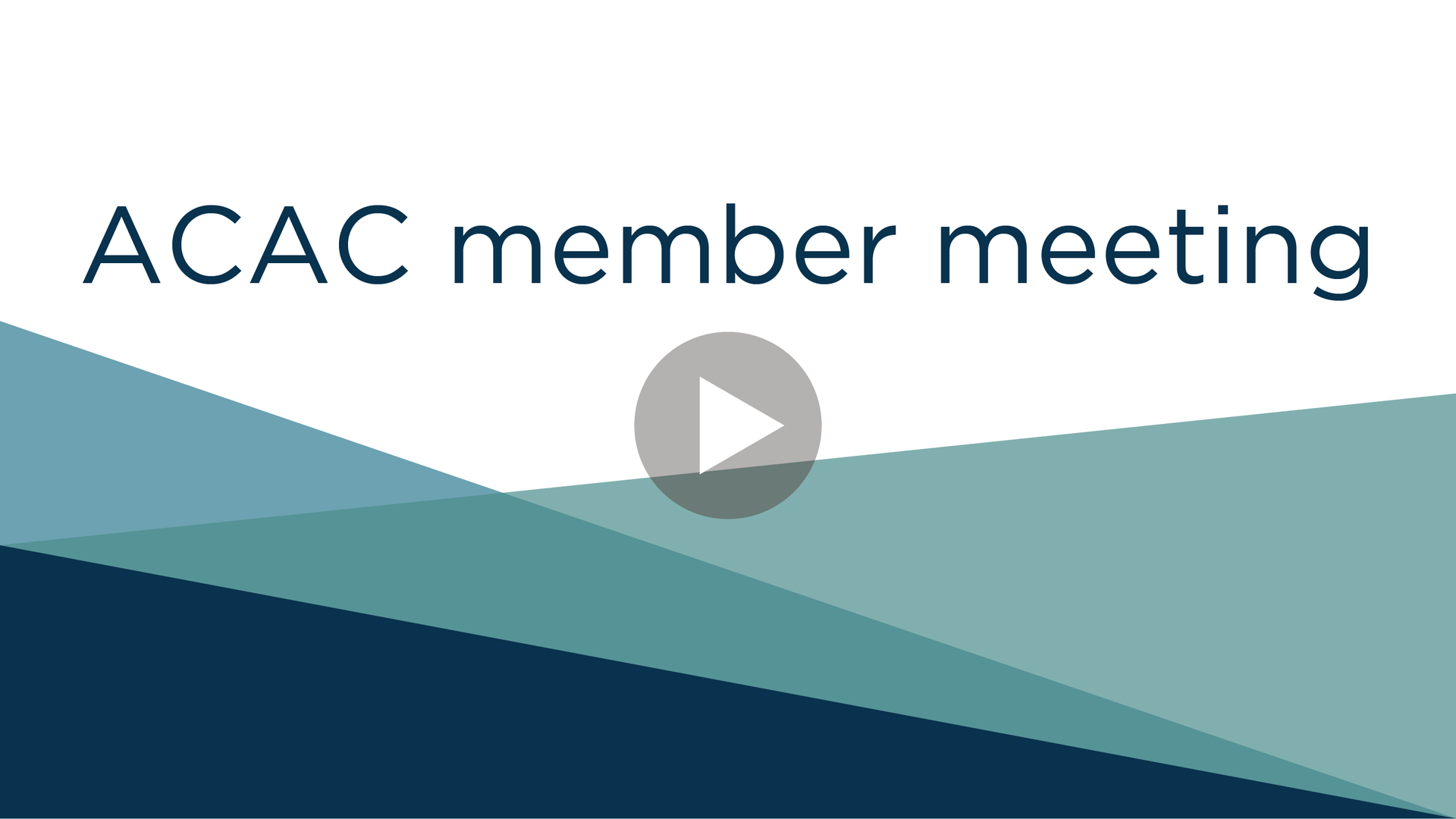 Watch the recording of the August member meeting above.
August member meeting:
Dr. Kane spoke about the work that Council is undergoing in relation to Bill 46, reminded members that a Council election will not take place this year, and mentioned that Council will be reexamining pandemic practice guidelines this week and will share updates when available.
Sheila congratulated ACAC COO Debra-Lynn Clouthier on celebrating 20 years with the organization, encouraged members to register for the final AGM on September 19, and reminded members to review our website for the latest updates on Bill 46.
Members asked questions related to x-ray guidelines, mandating vaccines for chiropractors, the new Council election and appointment process, and more.
Two weeks left to enter the World Spine Day contest and win $100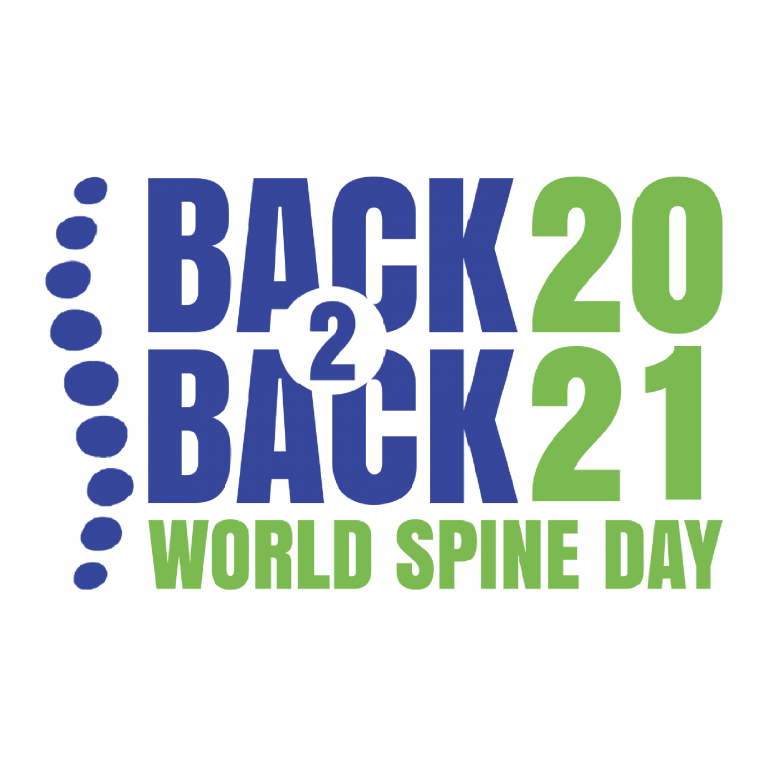 This year, World Spine Day focuses on "BACK2BACK", highlighting ways people can help their spines by staying mobile, avoiding physical inactivity, not overloading their spines, and adopting healthy habits like weight loss and smoking cessation.
To support this initiative, members and their clinic are encouraged to submit a photo or video of you performing a stretch in a recognizably Alberta location, with an explanation of why you stretch for a chance to win a $100 Visa gift card!
The contest closes on September 1, 2021, at 4 p.m., and the winner will be contacted on September 8.
Submitted content will be featured in ACAC World Spine Day promotion, on our website, across our social media, and in our newsletters.
The nosological classification of whiplash-associated disorder: a narrative review
Whiplash-associated disorder (WAD) is the most common complaint and purported cause of chronic disability associated with motor vehicle collisions in North America. However, its construct validity remains controversial. This narrative review of the literature summarizes the evidence underlying the most commonly theorized biological and psychosocial mechanisms of WAD pathogenesis.
On the blog: Throwing yourself into work shouldn't mean throwing your back out: four stretches for labourers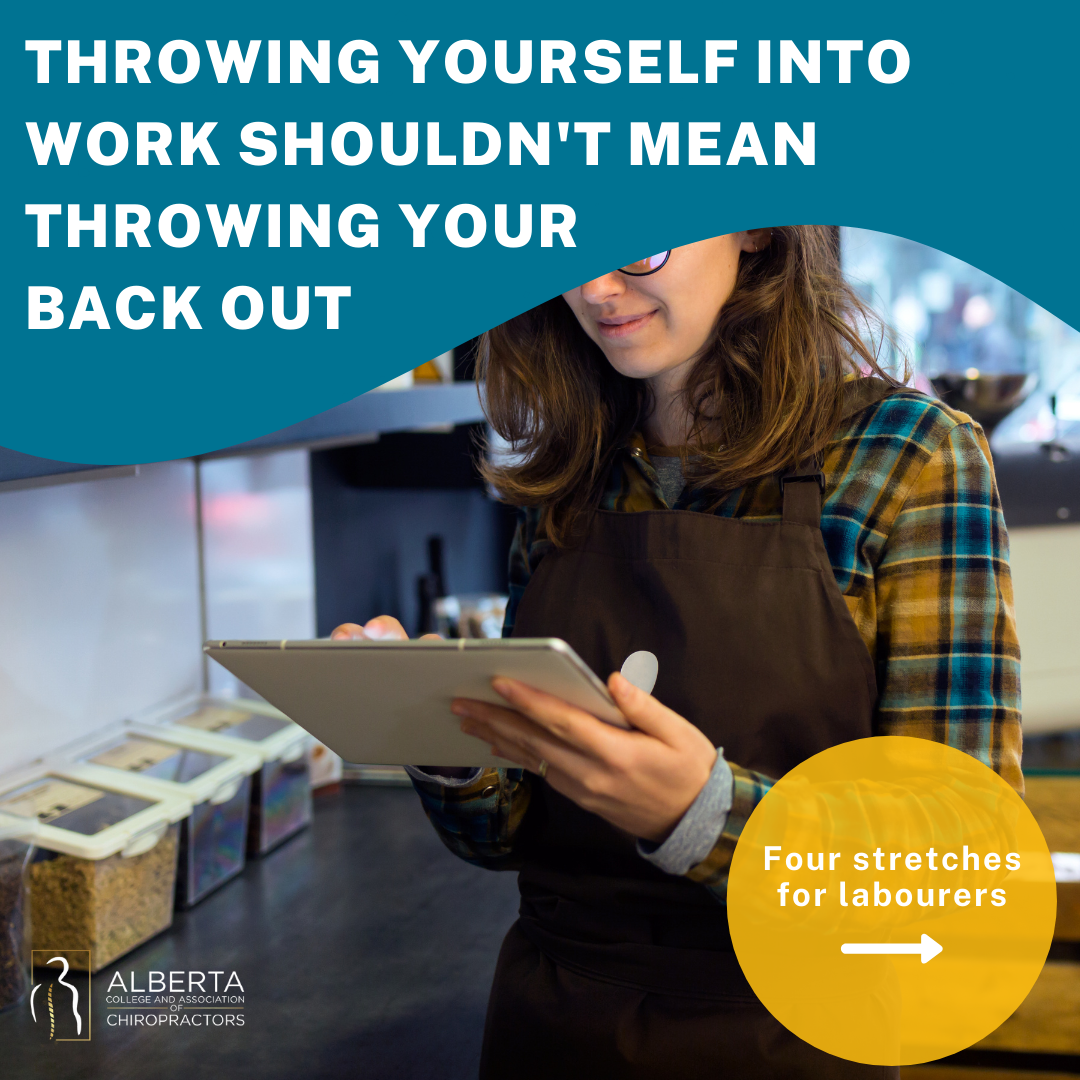 Whether you're climbing stairs all day, moving inventory, or re-arranging furniture, it's no secret that work can take a toll on your body. However, there's good news—taking a few minutes per day to stretch will give your body a break, and has positive, pain-relieving benefits.
In part one of this three-part series, we will be covering four stretches specifically designed for the strains and pains that are placed on worker's bodies. These four, quick stretches can be done any time of day, and only take five minutes to complete.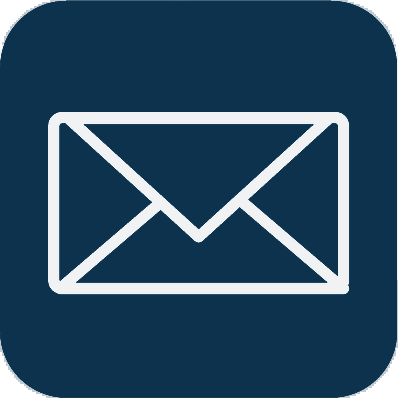 Council contact
Each member is assigned a Council contact to connect with for questions or comments related to the profession.
Do you know who your Council contact is?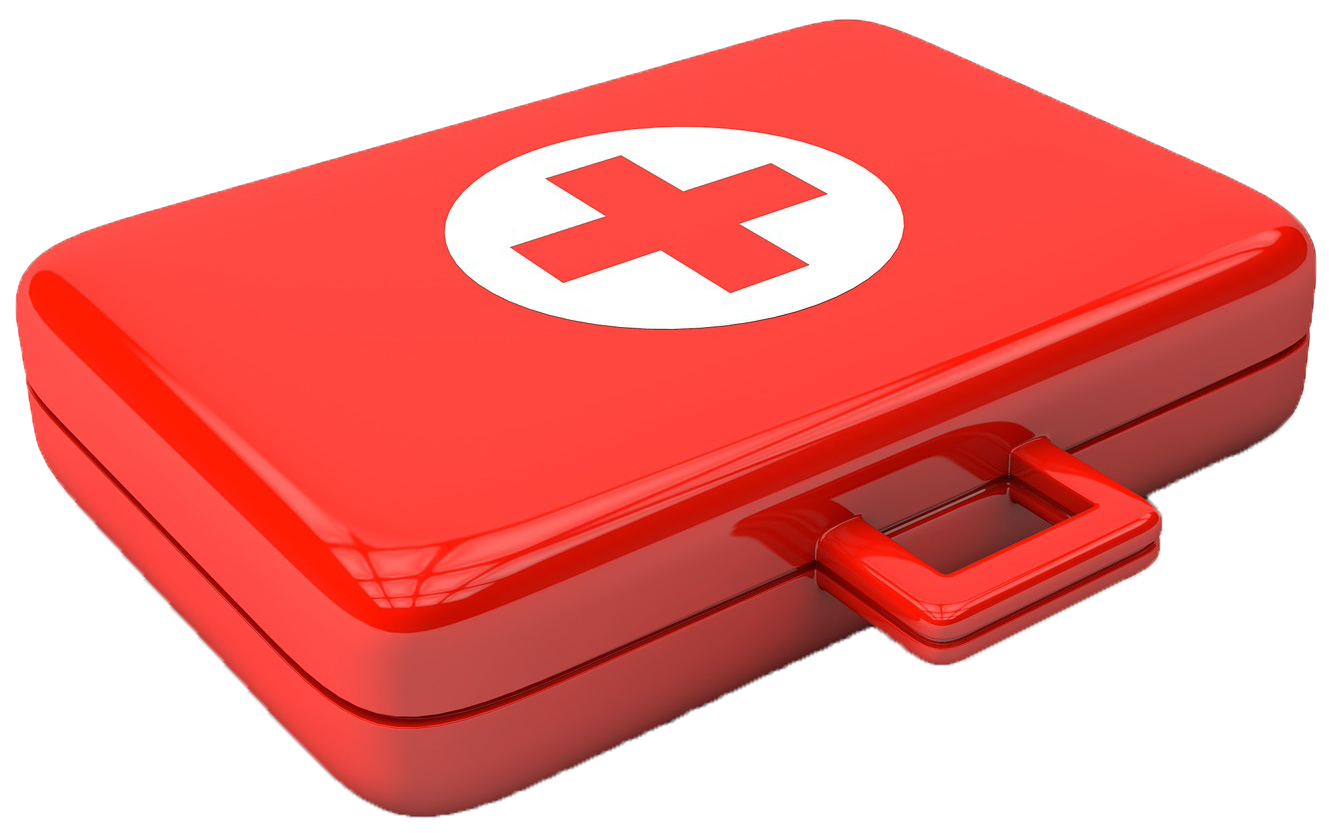 First aid & safety training services inc.
Need to get your standard first aid and CPR-C to renew your license? We offer regularly scheduled classes.
For more information, visit www.safetyclass.ca
[advertisement]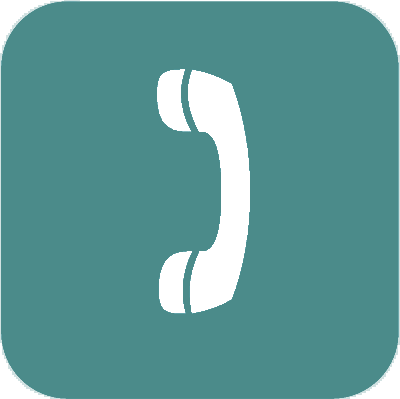 Reminder: media calls
Occasionally journalists reach out to members to request an interview or response to a story. The ACAC is prepared to support members through interviews and advise on how best to handle media inquiries.
If you receive a request, please contact Mikiko Van Horn, Senior Public Relations Coordinator, or call 780.420.0932.
Alberta College and Association of Chiropractors
11203 - 70 Street NW
Edmonton, AB, T5B 1T1
P 780.420.0932 | F 780.425.6583